August 25, 2021
Desert Mountain Membership – One of Five Great Membership Opportunities in the U.S as Lauded in Luxe Getaways
In a recent Luxe Getaways magazine article entitled Five Great Golf Membership Opportunities to Consider Now, it states: "With a growing number of people settling into their communities where they can work remotely and spend more quality time with family, golf communities are providing a perfect solution for those seeking great golf, quality housing and family-friendly amenities."
To those who know it, it should come as no surprise that Seven Desert Mountain was included in this select group of five. After all, few private clubs embody the qualities mentioned above to the same degree or checks each box with such confidence and comfort.
Seven, as the name would indicate, is the seventh and final enclave in North Scottsdale's famed Desert Mountain luxury golf community. Or as Luxe Getaways calls it, "the latest hot spot in the already red-hot real estate market that is Phoenix." And everything about this gated utopia supports that statement, starting with the setting.
Here, almost 360 degrees of striking Sonoran Desert views greet residents from sunrise to sunset and back again. And through it all, over 20 miles of multiuse trails, in the words of Luxe Getaways's article, take "hikers and riders off the beaten track and along edges of the Continental Mountains, among the desert's mysteries, and through a river basin bursting with color at nearly 4000 feet."
As appealing as all of this sounds, and it's a big part of what draws thousands to our neck of the desert Southwest every year, people generally choose golf communities for the golf. And in this department Desert Mountain does not disappoint. Desert Mountain is a community built around seven championship golf courses, six which were designed by the legendary Jack Nicklaus—the most such courses in one location anywhere in the world.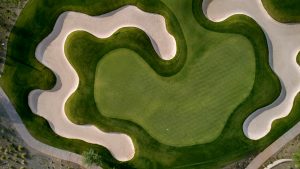 The remaining one, No. 7 at Desert Mountain, is Seven's USGA-rated, par-54 championship course, and one of only two such designated courses in the country. Designed by Desert Mountain members Bill Brownlee and Wendell Picket, this 18-hole masterpiece appeals to golfers of all skill levels and winds through every corner and past each single-family home, villa and luxury condo in the development.
And speaking of the homes, if the beauty Desert Mountain's location doesn't draw you to Seven at Desert Mountain, the homes will. Our three award-winning builders strike the perfect balance between modern, open design and traditional comfort in one- and two-story floor plans that range from 2,300 to 6,500 square feet and begin at prices from $1.4 to over $4 million.
And Luxe Getaways is quick to "add one more advantage to living at Seven Desert Mountain: A Full Golf, Lifestyle or Seven Golf membership is reserved for each homebuyer…" It's true. Purchase a home at Seven and you can elect to buy into your choice of membership levels in the club that's ranked the #1 Platinum Club in Arizona and #14 in the U.S. without being subject to a wait list.
Desert Mountain's Full Golf Membership gives you access to every amenity the community has to offer, including access to the Sonoran Fitness & Spa, seven clubhouses, 10 restaurants and grills and all seven Desert Mountain golf courses.
The Seven Golf Membership gives members full access to No. 7 at Desert Mountain and all the amenities the Full Golf Membership provides. This membership level excludes access to Desert Mountain's six other golf courses even if escorted by a Full Golf member.
A Desert Mountain Lifestyle Membership includes the ability to use all clubhouses, restaurants and social clubs, but golf access isn't permitted even to guests of Golf Members. Best of all, Seven Golf and Lifestyle Memberships may be upgraded based on availability.
Are you starting to see why Luxe Getaways included Seven Desert Mountain in its list of golf membership opportunities to consider? To get an even better sense of everything available to you at Seven, call 480-596-4110 today to schedule your visit.